2019 Members' Show
Tags: Gallery News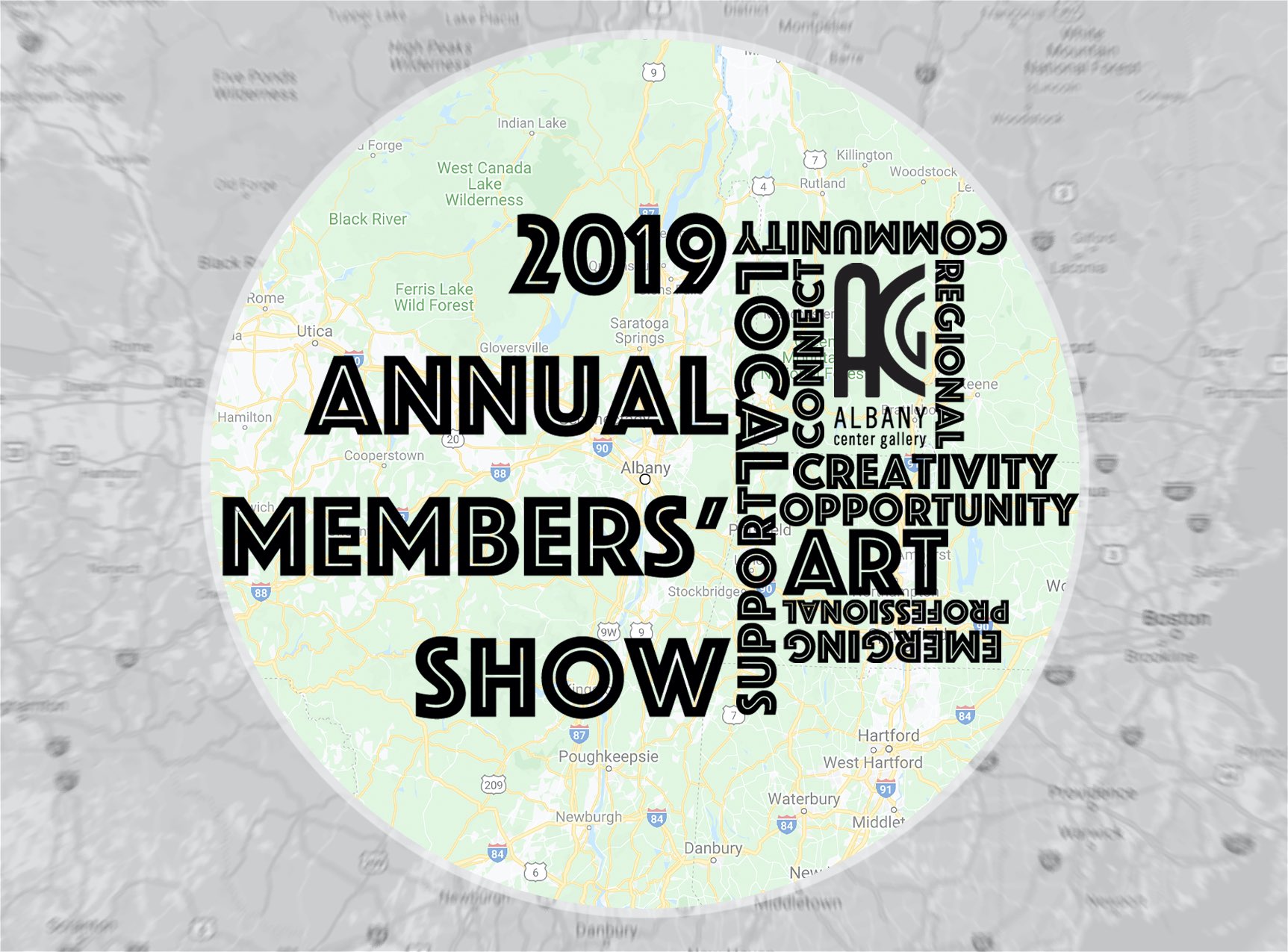 ---
Exhibit Dates: Friday, December 6, 2019 to Friday, January 10, 2020
Opening Reception: 1st Friday, December 6, 5 - 8 p.m., awards ceremony at 7 p.m.
The Members' Show will be held from Friday, December 6, 2019 to Friday, January 10, 2020. The Opening Reception will be held on Friday, December 6, from 5 p.m. to 8 p.m. in conjunction with the Fort Orange Holiday Market taking place in the Arcade Building hallway. At the Opening Reception, we will be awarding over $300 in cash prizes, along with other prizes and awards. The show will be juried by Julie Lohnes of Union College.
ACG's Members' Show highlights and recognizes a wide range of talented members, bringing together a dynamic cross-section of artists, diverse in medium and degree of establishment. Members vary from student and emerging artists to established and international artists, from painters and photographers to sculptors and mixed media artists. ACG sees this show as an opportunity for promotion and appreciation of all who have invested their time and energy in supporting ACG, making it what it is today.
Award Winners were chosen by Julie Lohnes, Director and Curator of Art Collections and Exhibitions at Union College.
1st Place: "Prickle" by Christine Snyder, Mixed Media
2nd Place: "Feed Lines" by Steve Rein, Enamel on wood
3rd Place: "The Ability to Cause Change" by Amanda Kralovic, Callagraph and photolithography
ACG President's Award:
"Taking it Forward" by Stephen Tyson, Acrylic on canvas
Honorable Mentions:
"Dancing on Sunshine" by Dorothea Osborn, Oil, tissue paper and shellac
"Kimono" by Leslie Yolen, Charcoal and encaustic
"Forest" by Carolyn Olsen, Fiber and Quilt
"Albany at Sub Zero" by Martin Bannan, Photography
"Iba" by Wayne Duffy, Video Animation
Artists Featured: Wendy Allen, Ronda Anderson, Fern T. Apfel, Michael Bach, Marty Bannan, Cyndy Barbone, Marghee Barrows, Amy Bergeron, Natalie Boburka, Janene Bouck, Lily Wai Brennan, Corrine Brennen, David Brickman, Bob Buck, Lynne Bunnell, Steven Carberry, John J. Catalfamo, Lorraine Chesin, Michael Clancy, Stephen Condon, Jan Conn, Robert Coppola, Jaime Courcelle, Francelise Dawkins, David De Lira, Chris DeMarco, Wayne Duffy, Kate Edwards, Dorothy Englander, Karen Fabiane, Jeanne Finley, Dee Foley, Paula Drysdale Frazell, Jay Freud, Jon Gernon, Karen Gerstenberger, Brian Gibbs, Alice Gilbert, Gary Glinski, Linda MacRitchie Graf, Ronald Greenberg, George Guarino, Robert Gullie, Juliana Haliti, Jessica Hansen, Thomas Hansen, Chloe Harrison, Niki Haynes, Nancy K. Henry, Star Herrera, Ali Herrmann, Suzanne Hicks, Dave Higgins, Gail Hinchen, David Hinchen, Frederick Holman, Carolyn Difiori Hopkins, Connie Frisbee Houde, Tony Iadicicco, Rocio Luna Jimenez, Camille Jobin-Davis, Sowmya Kanikkannan, Yamini Khare, Clarence KIng, Amanda Kralovic, Mary P. LaFleur, Christine Lally, Nettye Lamkay, Sonja LaPointe, Michael Lattanzio, Channing Lefebvre, Mara Lefebvre, Barbara Lennox, Stephanie Levay, Douglas Levey, Tina Lincer, Julie Lundgren, Billy Lyons, Criss Macaione-Bilodeau, Willie Marlowe, Christine Masi-Layden, Gary Masline, Mark McCarty, Dan McCormack, Julie Mereson, Wesley Merritt, Chuck Miller, Jim Miller, René Molineaux, Gail Nadeau, Fred Neudoerffer, Thomasa Dwyer Nielsen, Ann Norsworthy, Ed O'Connell, Carolyn Olsen, ORA, Dorothea Osborn, Hazal Ozturk, Philip J. Palmieri, Rita Papandrea, Andrew Pellettieri, William O. Pettit III, Beca Piascik, Linda Pinkans, Jillian Platt, Celeste Plowden, Ellie Prakken, Rosalie Presser, Juliette Prueitt, Regina Quinn, Larry Rappoport, Steve Rein, Jennifer Richard-Morrow, Julia Rosen, Richard Ruotolo, Anthony Ruscitto, Eric Rutnik, Shari Sarachan, Jae Schalekamp, Cadence Schwartz, Margo B. Singer, Deniz Sipahi, Darren Skotnes, Elizabeth Smith, Jacqueline Smith, John Smolinsky, Christine Snyder, Eleanor Stein, Sean Stewart, Altin Stoja, Audrie Sturman, Theresa Swidorski, Grace Tatara, Terry Teitelbaum, TrashKid, Yeachin Tsai, Israel Tsvaygenbaum, Carol Turner, Stephen J. Tyson, Richard Vitkay, Takeyce Walter, Alex Waters, MaryK Weeks, Larry White, Jeff Wigman, Thom Williams, Karina Wojnar, Leslie Yolen, Ruth Young, Rebecca Young, Kelvin Zheng, Trisha Zigrosser.
About the Juror: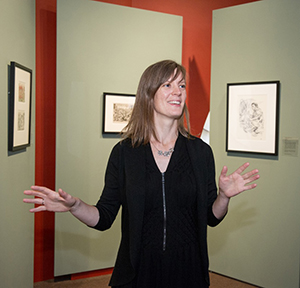 Julie Lohnes is currently the Director and Curator of Art Collections and Exhibitions at Union College, Schenectady, NY.  Lohnes earned her M.F.A. from the School of the Museum of Fine Arts in Boston with a focus on video, sculpture and installation, and her B.F.A. from Boston University in painting, with a minor in art history. She has more than 20 years of experience working in contemporary arts, in not-for-profit, commercial and academic galleries, most recently as Executive Director of the not-for-profit, A.I.R. Gallery, in the DUMBO area of Brooklyn, the first artist collective for women in the United States.  She also held the director position at DFN Gallery in NYC and Chase Gallery in Boston. She has curated and organized numerous exhibitions including the exhibition "Embody" at Union College. Other notable exhibitions include "The Detours of the Possible" at Les Territoires, Montreal, Canada, "Dangerous Women" at DFN Gallery and "Anomalistic Revolution" at A.I.R. Gallery.
Julie has participated in many panel discussions, most notably as moderator of "Transnationalism and Women Artists in Diaspora" at the Elizabeth A. Center for Feminist Art in the Brooklyn Museum, and co-moderated "Women in the Arts," at Opalka Gallery, Sage College, in Albany.  She co-authored "Tripping the Black Fantastic at a PWI: or, how Afrofuturist exhibitions in an academic library changed everything," in Alexandria: The Journal of National and International Library and Information Issues with Robyn Reed.  Additionally, she has taught professional development workshops on writing resumes and artists statements for artists and volunteered for not-for-profit organizations, including Artcetera, an AIDS Action Biennial art benefit in Boston.
Sponsored by: ACG Premier Sponsors Howard Hanna & David Phaff Real Estate Services, as well as Joann Ryan, Albany Parking Authority, Honest Weight Food Co-op, the New York State Council on the Arts, and the Albany Wine & Dine for the Arts Festival