BUY YOUR TICKETS to the Sweetest Soirée Gala
Tags: Gallery News
---
*UPDATE 11/17/2023* Tickets are sold out for this event and are no longer on sale. See you there. If not, you can still participate by bidding in the Silent Auction by November 19, at 2 p.m.
---
Get your General Admission tickets to the Sweetest Soiree Gala!
All proceeds go towards the mission of Albany Center Gallery for supporting and promoting local and regional artists. We hope to see you there. Please join us in celebrating the arts together for what is sure to be a sweet night! Buy your tickets.
$120 - includes admission to the Gala with dinner and dessert, entertainment, dancing, festivities, as well as complimentary wine, hard cider, water, and soft beverages. Cash bar will be available for cocktails.
$145 - includes the above AND a raffle ticket for the Gala raffle
For $250, you receive 2 Bronze level Honorary Committee tickets! Be VIP and join Honorary Committee instead.
This year's annual Gala fundraiser will take place from 7:00 - 11:00 p.m. on Saturday, November 18, 2023 at the Scarlet Knife in Latham, NY. The theme is The Sweetest Soirée (candies, chocolate, sweetness) with encouragement to be decadent and glamorous. Color scheme is black, white, and/or red. Dress is creative cocktail or black tie optional.
Please be aware: Starting November 1 $100 General Admission tickets will increase to $120. No tickets will be sold at the door, so don't wait. Buy yours now.
If you buy 4+ GA tickets at once, you receive 10% off your purchase. Please email Karina at development@albanycentergallery.org to get the promo code. If you'd like $20 off your ticket, you can also email Karina.
**We have a limited number of "pay what you wish" sliding scale tickets available.
Also, If you are a member of ACG or would like to be a member, you can use a membership promo code for a discount on a ticket. If either of these are an option you'd like to explore, please email Karina at development@albanycentergallery.org**
Tickets may also be purchased by mailing a check to Albany Center Gallery, 488 Broadway, Suite 107, Albany NY, 12207 with a note that says "Gala Tickets"
Admission tickets will not be mailed to you. You will receive email reminders, so please make sure the email you provide with payment is one you frequently check and that emails from development@albanycentergallery.org are marked as "not junk" or "not spam".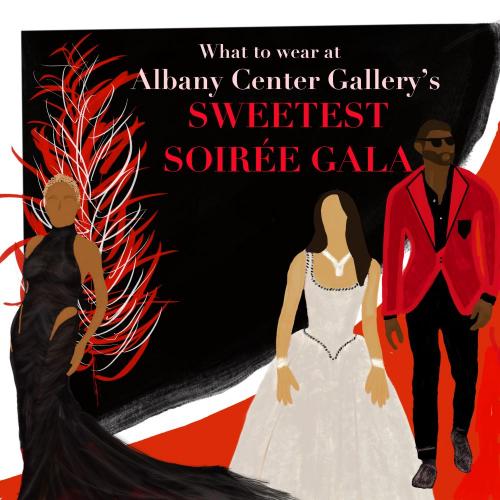 Graphic design by awesome intern Erin Conner
 What does one wear to ACG's Sweetest Soirée Gala? The answer? Anything that expresses who you are in the sweetest and most glamorous ways! We encourage the attire to be creative cocktail or black tie optional. Color scheme is black, white, and/or red. The event is called the Sweetest Soirée for a reason, emphasis on the SWEETS. 🍭
You want to wear a fabulous red ball gown? Yes. You want to dress in a way that reminds you of your favorite candy or chocolate? Yes. You want to wear an outfit that speaks "glam" or "indulgent"? Yes. You want to wear a pinstripe suit? Yes.