ACG's Come As You ART Gala
Tags: Gallery News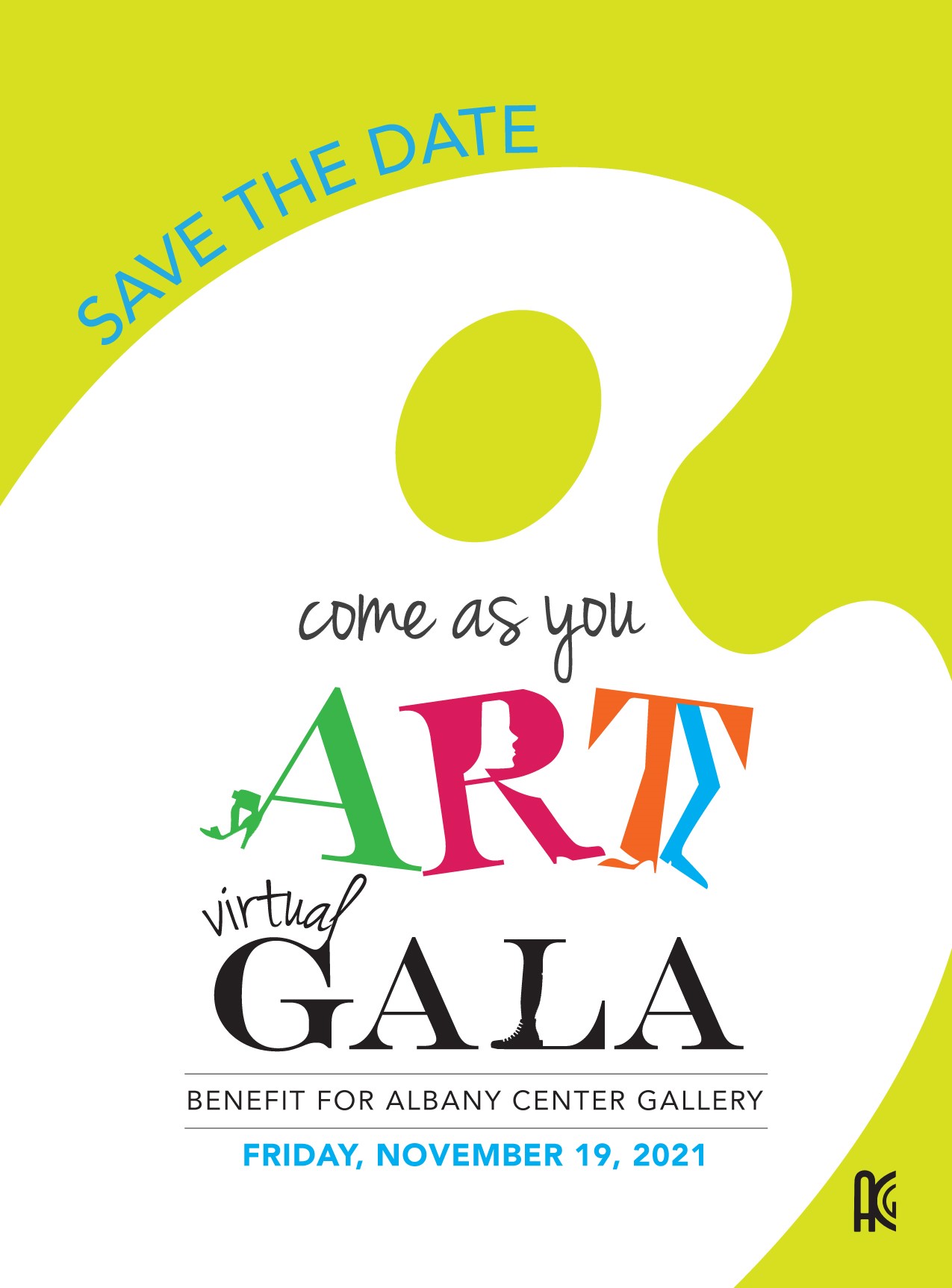 ---
**tickets can no longer be purchased for this event*
11/19/21
Come As You ART to this year's ACG's annual Gala! ACG invites YOU, all of you in our community, to "come as you are", how you want, wearing what you want, with whom you wish… We just want you there so we can celebrate TOGETHER. 
The Come As You ART Gala is virtual like last year but our team will be streaming live from the beautiful The Kenmore Ballroom. You'll be able to get an exclusive look into the space as well as fun entertainment by glorious co-hosts Nicole Dama and Tony Iadicicco. TUNE IN Friday, Nov. 19 at 7pm. There will also be live performances by Dha'Sean and D Colin as well as on-going live painting by Kim Tateo! There will be a live auction, the distribution of the 3 awards (the Mona Ruth Brickman Memorial Artist of the Year Award, the Dr. Joel Spiro Community Impact Award, and the Les Urbach Lifetime Achievement Award), and highlights from the past year with ACG.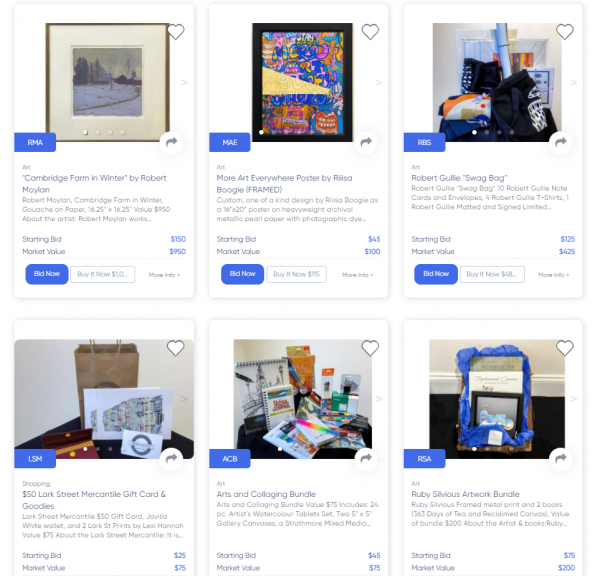 You can scroll or choose a category via the drop down menu underneath "Total Funds Raised". You can "heart" to make a favorites list, share, "Bid Now", or click "More info".

Or you can text to bid at (205) 782-9347 with the item's three letter code, which can be found in the blue box on the item's icon, and bid amount (i.e. HWC25 or HWC$25).  You can enter your card, billing, and other information then. You will NOT need to enter it every time. 
Please check on your bids and explore other ways to donate on the site. All donations and bids end the Sunday AFTER the gala on November 21, at noon. Bid often and early! Items will go quickly. 
Keep refreshing the site, as we are constantly adding new items! Happy bidding!
BUY YOUR GALA ADMISSION TICKETS NOW:
**TICKETS CAN NO LONGER BE PURCHASED FOR THIS EVENT. Thank you!**
Get your General Admission tickets to the Come as You ART Gala! All proceeds go towards the mission of Albany Center Gallery for supporting and promoting local and regional artists. We are offering different levels of general admission. It will be a virtual event, but you will receive physical items in a Gala Care Package (GCP). Levels correspond to what is included in the GCP. 
$25 - admission to the event, program book, a Support Local Art sticker designed by local artist Cara Hanley, the latest #CapitalWalls mural map, a specialized cocktail & mocktail drink menu, and more!
$50 - all the above benefits, two drink coasters, and a NEW More Art Everywhere magnet designed by a local artist.
$75 - all the above benefits, a matching NEW More Art Everywhere pin, AND $5 off a ticket to the 3rd Winter Art Fest upcoming in 2022 with Albany Distilling Co.
$100 - all the above benefits AND a free raffle ticket for the Gala Raffle (more info below)

Note: admission tickets will not be mailed to you. You will receive email reminders with event links, so please make sure the email you provide during check out is one you frequently use and that emails from kwojnar@albanycentergallery.org are marked as "not junk" or "not spam".
Tickets may also be purchased by mailing cash or check to Albany Center Gallery, 488 Broadway, Suite 107, Albany NY, 12207. Please include your full name, phone number, and valid email address.
You can support the Come As You ART Gala by:
Raffle Tickets!
*Raffle Tickets are no longer for sale. Thank you!*
1 ticket for $25 or 5 for $100 ... 3 Chances to Win!
Drawing will be held on Friday evening, Nov. 19, 2021 at the Come As You ART Virtual Gala.
Grand Prize: 7 Night, a 4 star or better timeshare resort vacation, accommodations for 2 - 4 persons, with a 2 year travel window, and a $500 VISA Gift Card. Minimum package value of $1,750. Winner's choice of destinations includes anywhere in the US. Dates, specific resorts, and size of accommodations subject to availability.
2nd Prize:  $500 Amazon.com Gift Card.
3rd Prize:  $250 Dining Card to The Culinary Institute of America in Hyde Park, NY.
Raffle tickets may also be purchased by mailing cash or check to Albany Center Gallery, 488 Broadway, Suite 107, Albany, NY, 12207. Please include your full name, phone number, and valid email address. Payment for raffle tickets MUST be received before the event by November 18. You do not need to be present to win.
To learn more about the rules & regulations of the raffle, click here!
2021 Award Recipients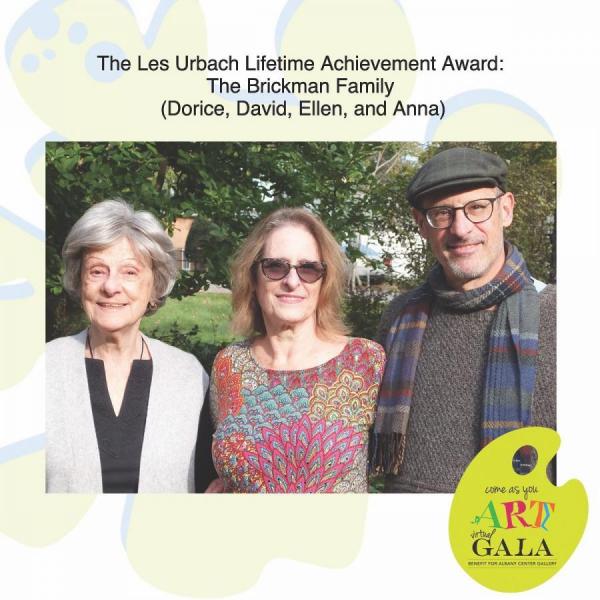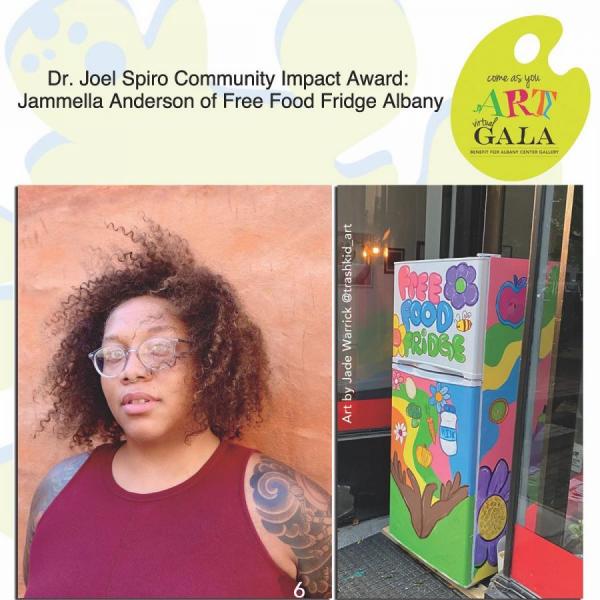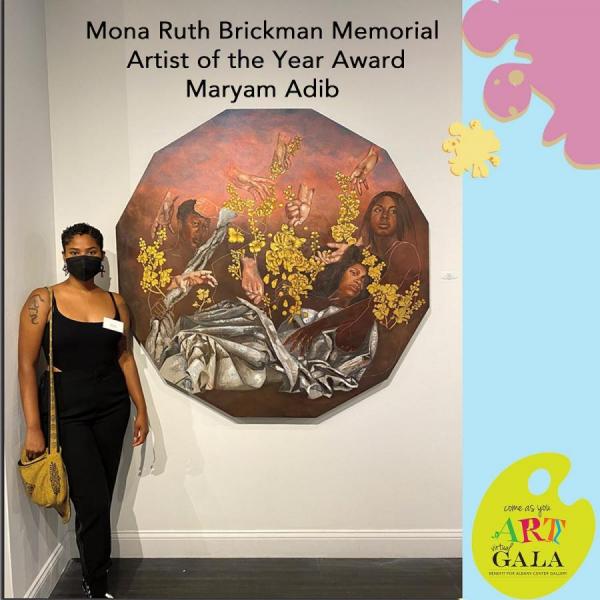 Make sure you are signed up for our emails to be the first to hear all the gala updates HERE.
Thank you to our sponsors & donors!
(as of 10/30/2021)
Corporate Sponsors
DIAMOND
David Phaff & Howard Hanna Real Estate Services*
Kevin Dubner, VP & Wealth Manager, Steward Partners Global Advisory, LLC*
RUBY
Redburn Development
EMERALD
Christ's Church Albany
Lavelle & Finn
SAPPHIRE
Accounting for All
Albany Parking Authority
Jankow Companies, Inc.
RJ McNamara - Financial Consultants
United Way /  Blake Annex
AMETHYST
Broadway Marketing Ltd.
Business for Good
Fenimore Asset Management, Inc.
The Kenmore Ballroom 
Rosenblum Development Corp.
Stewart's Shops
Windsor Development Group Inc. 
TOPAZ
Ten Eyck Group
*ACG's Premier Sponsors
Honorary Committee
GOLD
Ellen B. Brickman, James Carr, Kevin & Cindi Dubner, James M. Gaughan & Keith C. Lee, Carol Anne Germain, Carlsbury Gonzalez & Patricia Triller, Robin Gordon, Jessica & Tom Hansen, William Harris, Esq. & Holly Katz, Ellen Jabbur, Annette Nanes & Scott Meyer, Chet & Karen Opalka, Omni Development Company, Inc. (I. David Swawite), Julia Rosen, David M. Phaff, Joann Ryan, Upstate Artists Guild
SILVER
Peter & Lauren Gannon, Kendall Gardner, Gary Gold & Nancy Pierson, Tammis K. Groft, David Hochfelder & Ann Pfau, Rita & Daniel Papandrea, Susan Richardson, Melanie Stevenson
BRONZE
Dorice Brickman, Lisa Brown, Assemblymember Patricia Fahy, Mark Harris & Melanie Greenspan, Mary Kate & Mark McCarty, Hazal & Doruk Ozturk, John & Patty Paduano, William O. Pettit III, Rosemarie V. Rosen, Mayor Kathy Sheehan, Theresa & Carl Swidorski
Auction Donors
Albany Institute of History & Art, Albany Symphony, Ania Hair Studio, Annette Nanes, Arlene's Artist Materials, Art Associates Gallery, The Bell House Project, Book House, Capital Region Classical, Capital Rep Theatre, Carlsbury Gonzalez, City Line Bar & Grill, Colonial Cleaners, David Phaff, Ellen Brickman, Hoffman Development Corporation, Holly Katz, Honest Weight Food Co-Op, Jessica Hansen, Kevin & Cindi, Dubner, Lark Street Mercantile, Lisa Brown, Lysenko Dental, Musicians of Ma'alwyck, National Baseball Hall of Fame, New World Bistro Bar, Nine Pin Cider Works, Proctors Theatre, real [FIT] life, Renaissance Hotel, Rita Papandrea, Silver Parrot, South End, Powder Coating, Tina Lincer, Troy Savings Bank Music Hall, USS Slater, Western Turnpike Golf Course, & William Harris, Esq
Artist Donors
Elisa Sheehan, Free Humanity, Hazal Canisag Ozturk, Jae Schalekamp, Kim Tateo, Laura Cannamela, Leo Valenchis, Lexi Hannah, Robert Gullie, Robert Moylan, Ruby Silvious, Sylvie Kantorovitz, Tina Lincer, & Willie Marlowe