Youth Art Month Program
Tags: Gallery News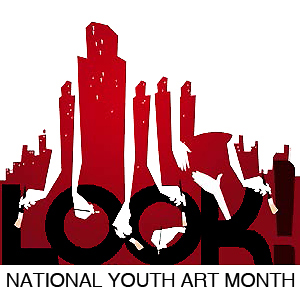 ---
Art + Youth = the future of our vibrant community
Every spring, Albany Center Gallery (ACG) hosts "LOOK!," a youth art program. And every year, LOOK! grows to meet the art needs of the community. Now more than ever the arts are valued as a necessity for positive economic development, with future creatives at the center. Last year's program was coined "Corner Canvas" (in partnership with Albany County Land Bank, 4th Family Inc, and other local community organizations). It impacted underserved neighborhoods in Albany through a several week workshop series curating local youths' visions, into reality. Through the guidance of local artist mentors, their visions became "moveable murals" that were installed in their respective neighborhoods of Arbor Hill and the South End. These projects have a positive ripple effect in the community to promote respect and pride for one's neighborhood, increase awareness on a variety of issues and solutions, as well as give tools to find empowerment and innovative industrial improvement. 
The arts play a significant role in serving as a therapeutic outlet and a change agent within communities to increase community awareness on a variety of issues and solutions.
This year's LOOK! will be a several week workshop series throughout the months of March, April, and May. Through teamwork with artist guidance and using their personal creative voices, these youths will produce art for their school and themselves. Monetary contributions will be designated towards artist/mentor stipends, art supplies, food, and transportation costs for the youth, and help sustain our future youth art programming. If you are an individual or business wishing to sponsor this year's Youth Art Program, you can do so here.
List of sponsors to date (2/26/2020): Carlsbury Gonzalez, Georgiana Panton, I. David Swawite/ Omni Development Co., Joann Ryan, John & Patty Paduano, Kevin & Cindi Dubner, Lisa F. Brown, Renaissance Albany Hotel, Rosemarie V. Rosen, and Stantec 
Thank you so much for your support!
If you would like to donate to the project but are unable to sponsor, we always buy a significant portion of our supplies from Home Depot so gift cards would be very helpful. We have also created an Amazon Wishlist of supplies the gallery needs to make this event happen. Any support you are able to give is greatly appreciated. This supplies will be used to on-going and future youth art programming. Amazon Wishlist here!