Connections 2022 Call for Art
Tags: Gallery News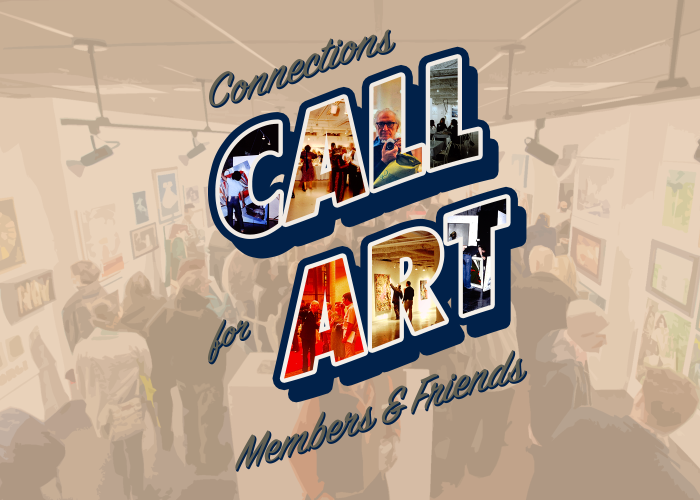 ---
** CALL HAS BEEN FILLED as of 6.23.2022. Thank you all very much. **
Calling all ACG members! Please accept our invitation to you and your artwork for a special exhibition this summer as we celebrate our 45th anniversary! We know many artists are inspired by other artists - here's your chance to invite them to showcase with you! Each ACG member can invite one non-ACG member to display their artwork in the returning exhibit, Connections. The goal of this exhibition is to highlight and expand everyone's network of local and regional artists- Join us!
Current members with an active ACG membership will submit two works of art for consideration AND you invite one artist friend (who isn't a member) to submit two works of art! Submissions will be reviewed and one artwork will be accepted to be shown per person. Members submit for free, and the non-members' submission fee is $25. *If non-members become a member of ACG, the submission fee will be waived. This is only applicable to new members. ACG Members MUST invite a non-member friend in order to participate.
The exhibition will take place in certain sections of the gallery in a salon-style format, please read the submission guidelines below for size restrictions. To secure your spot (and your artist friend's spot) in the show, you must register via this Submittable. Part of the members' Submittable form will require you to enter the email of the non-member artist friend you are inviting. Once you have submitted your form, your friend will be emailed a separate form to fill out and submit their artwork.
Only the first 25 ACG members and their associated non-member friends will be accepted into the Connections show (total of 50 artists), due to limited gallery space. Please submit sooner rather than later to ensure your inclusion in this highly anticipated exhibition!
This exhibit will be running in tandem with ACG's 45th Anniversary celebration highlighting the Gallery's archives, as well as a curated exhibit to be announced soon.
Call for Art Dates: Now - June 30, 2022 at Noon
Exhibit Dates: August 2 - August 20, 2022
Artists' Reception: August 5, 2022 from 5 - 8 p.m.
Submission Guidelines:
The designated "Member" must have an active ACG membership. You can email Karina at kwojnar@albanycentergallery.org to confirm if you are unsure of your status.
Submit two ready-to-hang works of art. We will email you prior to drop off which one is selected to be included in Connections.
All 2-dimensional drawings and works on paper must be framed and ready to hang with a wire or sawtooth hanger at the time of drop-off.
Any medium accepted (2D, 3D or digital). All media is eligible for entry, excluding work previously shown at Albany Center Gallery.
Maximum Size: 24" x 24" or 18" x 30"(including mat and frame) (Sculpture artists, please contact the gallery if you have concerns with sizing)
All works must be labeled on the back with the artist's name, title, and contact info.
Albany Center Gallery retains the right to refuse work that is deemed unsuitable (i.e., hanging devices, content, size, etc)
Artists should submit artwork information online via this Submittable by June 30, 2022 at Noon.
Artwork Drop-off: Artwork must be delivered to ACG on July 16 or July 19, 2022 between Noon - 4 p.m.
Artwork Pick-up: Artwork must be picked up on August 23, 24, or 27, 2022. Artwork left longer than 30 days after the closing of the show will become the property of the Albany Center Gallery.
*Non-Members can pay for the $25 submission fee here. (Submission fee must be paid before drop off. If you decide to join as a member instead, this will be waived. You can join as a member here)
If you have questions or concerns, please contact Karina Wojnar at kwojnar@albanycentergallery.org.
The following form should be filled out by the designated member, the non-member friend will receive a form to fill out once this one has been completed.