Beyond Limits
Tags: Gallery News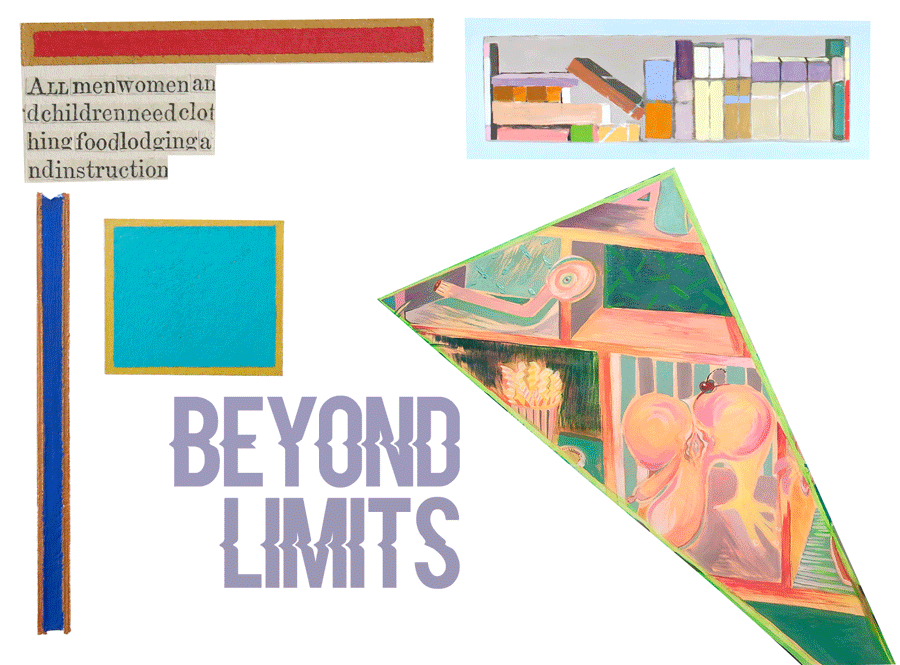 ---
Albany Center Gallery Presents Beyond Limits, Asking How We Define Ourselves
From July 12 - August 16, 2019, Albany Center Gallery (ACG) will present Beyond Limits, featuring the works of regional artists Fern Apfel, Monica Bill Hughes, and KK Kozik. An artists' reception will be held at ACG from 5 p.m. to 8 p.m. on Friday, July 12, 2019, and the public is invited to attend. 
Beyond Limits is the exploration through three artists' works of overcoming the constraints placed on them in their expected roles. In all aspects of life, we limit ourselves through the terms we use to define who we are. Beyond Limits seeks to challenge the preconceived expectations on norms of artistry, gender, thinking, and identity through abstraction and repeated motifs.
Fern Apfel is a visual artist who has exhibited her works throughout the Northern Hudson Valley and Capital Region. She uses stamps, diary pages, and parts of well-worn books in pieces to "reevaluate the boundaries between language, painting and abstraction." Texts are utilized to be read as narratives, accounts, or provocations, and serve both as storytelling devices and textured visual elements. Envelopes and letters turn into relationships, and collages invite intimacy. In all her work, Apfel synthesizes past and present, drawing the "inescapable circle of time and memory."
Through the abstraction of domestic spaces and female flesh, visual artist Monica Bill Hughes is constantly testing the conflicting cultural expectations of women in her works. Using imagery ranging from the iconic to the mundane, Hughes draws and paints in the realm between complete non-objectivity and recognition, with a constant struggle between glorification and critique of her chosen themes. Identifiable symbols of femininity are melded into bright colors and familiar forms and patterns, evoking what the artist calls "the cyclical nature of cultural expectations."
In her drawings and paintings of stacks and shelves of books, KK Kozik has created worlds of repetitious geometries in bold colors. For Kozik, books function as receptacles for "life's mysteries," and this series explores both the possibilities of colors and the versatility of simple rectangular volumes. Unlabelled spines and untitled covers fill shelves and racks with almost no empty space, acting as opportunities to serve as individual containers for thoughts and memories. Kozik has displayed works throughout the United States and widely in Europe, and now spends her time between Sharon, CT, and Brooklyn, NY.
Beyond Limits is on display at Albany Center Gallery from Friday, July 12, to Friday, August 16. It will feature the work of three regional artists: Fern Apfel, Monica Bill Hughes, and KK Kozik. The exhibition will begin with an Opening Reception at ACG on Friday, July 12, from 5 p.m. to 8 p.m. The reception and exhibit are free and open to the public. Beyond Limits is sponsored in part by Ellen B Brickman, as well as ParkAlbany, the New York State Council on the Arts, Renaissance Hotel Albany, and the Albany Wine & Dine for the Arts Festival.