2023 Summer Youth Arts Program Celebration
Tags: Gallery News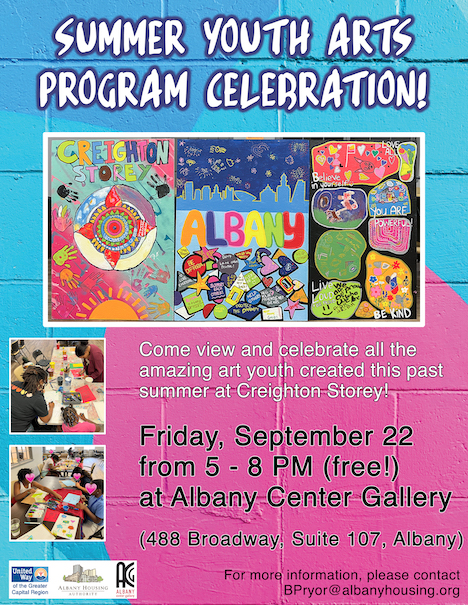 ---
On Friday, September 22 from 5 - 8 p.m., there will be an Artists' Reception celebrating the youth that participated in the 2023 Summer Meals Collaborative Program at Creighton Storey Homes! The smaller works of art made by the youth as well as the 3 moveable murals that they created will be on display in Art.Work.Space. (right across the hall from ACG, located at 488 Broadway, Suite 107 in Downtown Albany).
Come celebrate these young and creative minds! This pop-up will be held in tandem with the Artists' Reception for the 45th Annual Photography Regional at Albany Center Gallery.
This celebration is hosted by Albany Center Gallery (ACG), Albany Housing Authority (AHA) and United Way of the Greater Capital Region (UWGCR). If you are not able to attend, you can view the murals in Art.Work.Space. until Saturday, September 30 or at Creighton Storey Homes where it will be permanently installed.
The youth worked with Coach Bree Hassell from The Albany Rock Project, Junior Artist Mentor Shae, and ACG Staff Emily to create three vibrant and imaginative murals all with different themes. The Artist Mentors also worked with the kids to create smaller unique works of art on canvas, paper, rocks (which were placed around the community for others to find), and more! There were themes ranging from community and what signs they wanted to see in Albany, to fireworks, all the way to abstract mandala designs. 
The kids were so creative, it is truly inspiring. More Art Everywhere, Together! 
This collaboration was part of a region-wide effort through the Summer Meals Collaborative that brings together health and human service organizations, local government, advocacy leaders, research institutions and the creative sector to ensure kids and teens have access to nutritious and delicious meals along with fun and enriching programs. Led by the United Way of the Greater Capital Region, the Collaborative is on a mission to ensure no kid goes hungry in the summer months.