2021 Mohawk Hudson Regional
Tags: Gallery News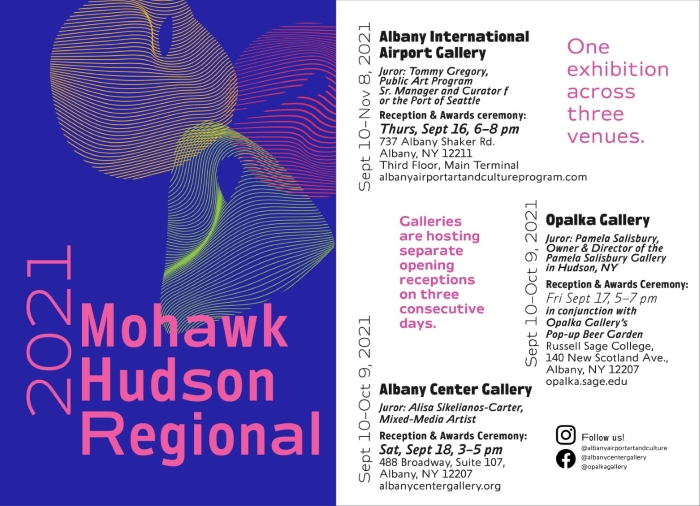 ---
Albany Center Gallery was excited to be one of three venues hosting this year's Artists of the Mohawk Hudson Region show alongside Albany International Airport and Opalka Gallery at Russell Sage College. Of the 561 artists who submitted, three jurors for each respective location selected 96 artists to feature their works across the three sites.
From September 10 - October 9, 2021, ACG featured the works of the following artists, chosen by juror Alisa Sikelianos-Carter: Maryam Adib, Tania Alvarez, Justin Baker, Sharon Bates, Berly Brown, Gabe Brown, Donnabelle Casis, Ryan Chase Clow, Jane Ehrlich, Ray Felix, Abby Golodik, Shanti Grumbine, Josepha Gutelius, Huê Thi Hoffmaster, Olivia Hoover-Mahoney, Cheryl Kass, Tatana Kellner, Jahniah Kum, Madison LaVallee, Darian Longmire, Iain Machell, Melinda McDaniel, Claudia McNulty, Theresa McTague, Alicia Mikles, Robert Moylan, Stephen Niccolls, Julie Pereira, Emily Prosper, Joe Putrock, Regina Quinn, Sam Reeder, Kelsey Renko, Gia Sabatini, Jae Schalekamp, Julie Shapiro, Charles Steckler, Kamilla Talbot, Amelia Toelke, Stephen Tyson, Victoria van der Laan, Catalina Viejo Lopez de Roda, Carolyn Webb, and Mimi Young.
There was an in-person Artists Reception on Saturday, September 18 from 3-5 p.m. It was great to see you there to celebrate the artists' works, see the exhibit, talk with some of the artists, and mingle with each other! Masks and social distancing were required to respect everyone's comfort and safety. To read more about full COVID19 guidelines visit albanycentergallery.org
The Artists of the Mohawk Hudson Region show at ACG was sponsored by ACG Premier Sponsors: David Phaff & Howard Hanna Real Estate Services; and Kevin Dubner, Partner & Wealth Manager at Steward Partners Global Advisory, LLC. Additional support is provided by Bill Harris & Holly Katz, as well as the New York State Council on the Arts with the support of the Office of the Governor and the New York State Legislature.
Be sure to check out the websites of each other location that had incredible artists on view (Albany International Airport and Opalka Gallery)
Albany Center Gallery
Juror: Alisa Sikelianos-Carter, Mixed Media Artist
Exhibition Open: Sept. 10 through Oct. 9, 2021
Reception & Awards: SAT, Sept. 18, 3-5pm 
488 Broadway, Suite 107, Albany, NY
Albany International Airport
Juror: Tommy Gregory, Public Art Program Sr. Manager and Curator, Port of Seattle
Exhibition Open: Sept. 10 through Nov. 8, 2021
Reception & Awards: THUR, Sept. 16, 6-8pm
3rd Floor, Main Terminal, 737 Albany Shaker Rd, Albany, NY 
Opalka Gallery
Juror: Pamela Salisbury, Owner & Director, Pamela Salisbury Gallery in Hudson, NY
Exhibition Open: Sept. 7 through Oct. 9, 2021
Reception & Awards: FRI, Sept. 17, 5-7pm
In conjunction with Opalka's Pop-up Beer Garden, 6-9pm
Russell Sage College, 140 New Scotland Ave., Albany, NY