JOB OPPORTUNITY: Exhibitions & Gallery Associate
Tags: Gallery News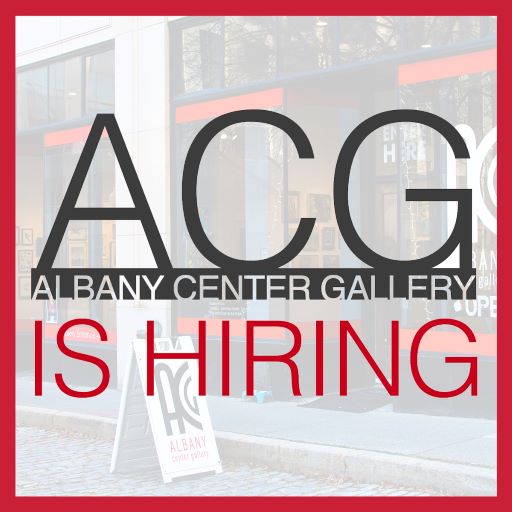 ---
Albany Center Gallery is hiring: APPLY NOW!
ACG is searching for a new member of its team: a part-time Exhibitions & Gallery Associate!
This individual will work closely with the Executive Director to curate the in-house exhibitions, coordinate logistics with artists for those exhibitions, and maintain the Gallery space. Scheduling is flexible, but in-person for 20-30 hours per week with preference of availability Tuesday– Friday/Saturday, Noon – 5:00 pm
Compensation: Hourly, $16/hr
Instructions to apply Please submit a cover letter, resume and/or CV, and 3 references (2 professional, 1 personal) via this Submittable site by Sept 23 at noon. Ideal start date is as soon as possible/Oct 1. If potential candidates are identified, interviews will be scheduled between Sept 26, 27, or 28. Please no phone inquiries, but you can email Karina Wojnar at kwojnar@albanycentergallery.org if you have questions regarding the application or job description.
Essential skills: (if you thoroughly enjoy all these, this job may be for you!)
Interest in art and artwork

Proactive problem-solving

Attention to detail

Time and project management

Kind and professional communication (virtual, in-person, and over the phone)
Minimum Qualifications:
Associate's or Bachelor's degree in Visual Art, Arts Administration, or related field and/or minimum of 2 years of related experience in an art gallery or non-profit art space

Interest in art and respect for artwork

A passion and connection to Albany Center Gallery's Mission, Vision, and Values

Exceptional attention to detail and organizational skills

Superb interpersonal and customer service skills to work with key audiences including patrons and artists

Ability to handle multiple tasks, projects, and priorities effectively and professionally

Strong understanding of curatorial process in a gallery

Strong knowledge or willingness to learn how to install artwork

Prior experience with handling artwork and fragile items

Proficiency in Microsoft Office Suite (Outlook, Word, Excel & PowerPoint) and Google Drive Suite (Docs, Sheets, etc)

Ability to communicate and work well with others of varying skills and knowledge

Ability to work independently or collaboratively on assigned responsibilities

Ability to work in a fast-paced environment
Preferred Qualifications, Skills, and Abilities:
Ability to handle power tools and be on ladders

Prior experience with an art gallery or non-profit art space

Past experience with the curation process of exhibitions
ACG is committed to creating a diverse, equitable environment and is proud to be an equal opportunity employer. All qualified applicants are encouraged and welcomed to apply however you identify in regard to your race, color, religion, sex, gender identity or expression, sexual orientation, national origin, ability, age, veteran status, etc.
For the full list of job responsibilities and duties, click here.