2023 Annual Members' Show
Tags: Gallery News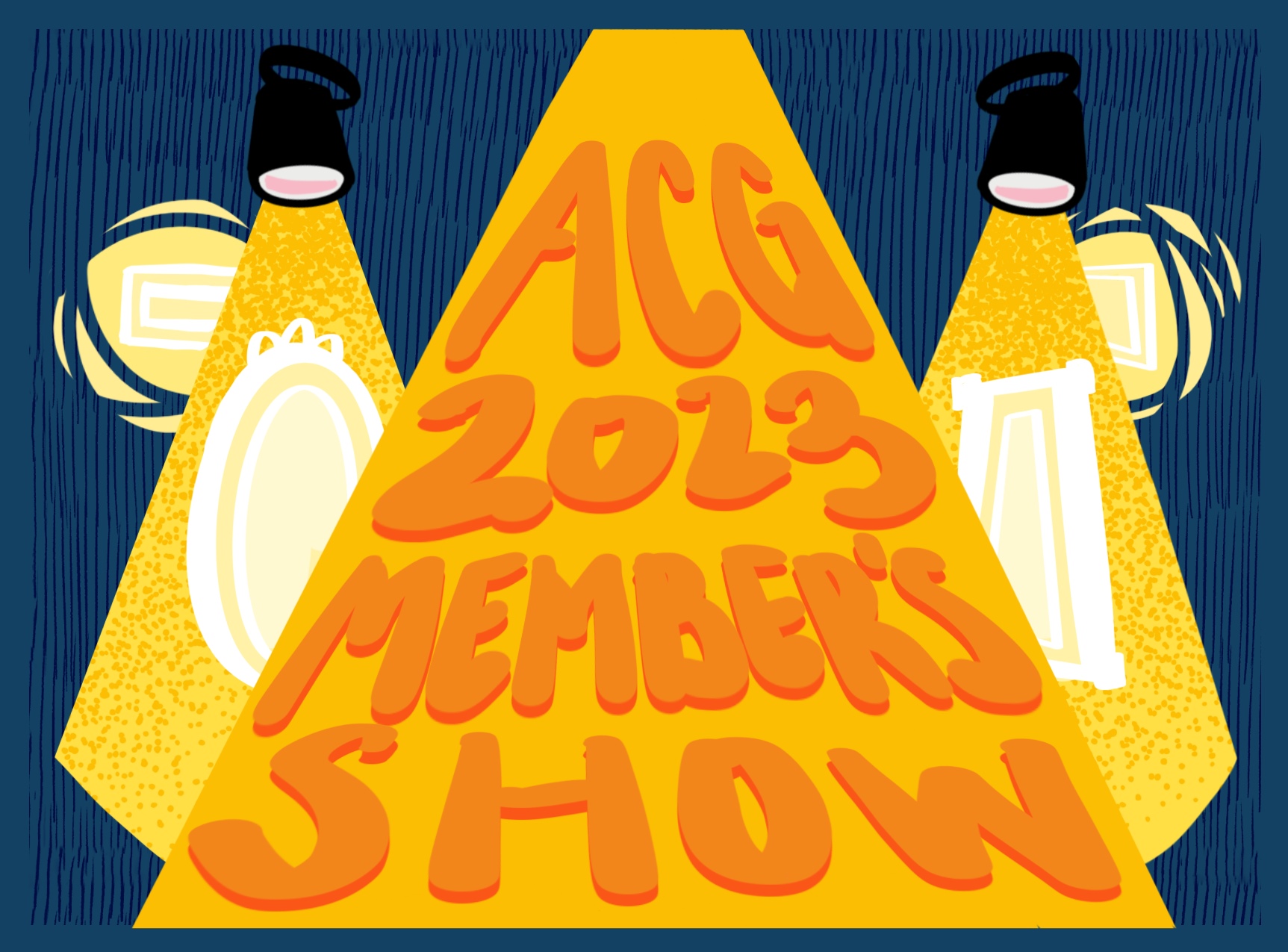 Members' Show Logo Design by ACG Member Jess Stapf 
---
This year's Members' Show will be held from Friday, December 1, 2023 to Saturday, January 13, 2024. An Artists' Reception with an awards ceremony will be hosted in person on Friday, December 1, 2023, from 5 - 8 p.m., with awards starting at 6:30 p.m. $1000 in cash prizes will be distributed! This exhibition features over 200 artists.
ACG's Annual Members' Show highlights and recognizes a wide range of talented members, bringing together a dynamic cross-section of artists, diverse in medium and degree of expertise. Members range from student and emerging artists to established artists, from painters and photographers to sculptors and mixed media artists. ACG hosts this show as an opportunity for exposure and appreciation of all who have invested their time and energy supporting ACG, so we can continue our mission of highlighting regional creative talents.
Artists included in this year's Members' Show:
Oscar Alberto Bogran, Ronda Anderson, Fern Apfel, Christine Averill-Green, Linda Bacon, Michele Bager, Deborah Balcanoff, Celeste Balducci, Martin Bannan, Carol Barré, Peggy Becker, Joel Best, Natalie Boburka, Janene E. Bouck, Anna Boughtwood, Corinne Brennen, David Brickman, Laura Brodsky, Isaac Brown, Royal Brown, Bob Buck, Lynne Bunnell, Berta Burr, Laura Cannamela, Regina Capobianco, Steven Carberry, Shelley Carr, Bryanna Catucci, Catharina Christiana, Susan Cohen, Stephen Condon, Jan Conn, Erin Conner, Wendy Costa, Jim Cramer, David De Lira, Maria DeAngelo, Lindsey DeBerry, Chris DeMarco, Nancy Demetriades, Paula Drysdale Frazell, Gregory M Dunn, Sandra Dwileski, Thomasa Dwyer Nielsen, Lioubov Ermolova, Jeanne Finley, Shawna Fitzsimmons, Patricia Ford, Katria Foster, Tom Fox, Raé Frasier, Jay Freud, Connie Frisbee Houde, Pattie Garrett, Megan Gerber, Karen Gerstenberger, Alice Gilbert, Gail Giles, Benj Gleeksman, Gary Glinski, Carlsbury Gonzalez, Ronald Greenberg, John Greenhut, Allen Grindle, George Guarino, Robert Gullie, Virginia Hammer, Shalom Harrison, Martin Hatcher, Nancy Henry, Ali Herrmann, William Hetzer, Dave Higgins, Susan Himmel, Paul Holloway, Fred Holman, Elizabeth Iadicicco, Tony Iadicicco, Edward J. Gilbert, Stephen JeanPierre, Nathaniel Jones, Kareem Joseph, Michael Joyce, Janice Juliano, Sylvie Kantorovitz, Irina Kaplan, Charleen Kavleski, Elena Keesee, Mariah Kitner, Matthew Klane, Steven Klingel, Kathy Klompas, Lori Kochanski, Hope Konelny, Laura Kordowski, Dodji Koudakpo, Amanda Kralovic, Kevin Kuhne, Andrew Kwok, Bettina Lamberti Beiersdorf, Lori Lawrence, Sue LeGere, Barb Lennox, Stephanie Levay, Anne Levitt, Tina Lincer, Max Litvinov, Kurt Lluch, Steven Lobel, Tracy Loring, Julie Lundgren, Fiona M. Dejardin, Linda MacRitchie Graf, Gary Masline, Dan McCormack, David McDonald, Ford McLain, Stephen E. Mead, Samantha Meck, Jesse Meenaghan, Julie Mereson, Patrick Milbourn, Chuck Miller, René Molineaux, Michael Mooney, Meghan Mooney, Robyn Morgan Giddings, Susan Myers, Aosta Nasutowicz, Frank Nasutowicz, Lucy Newman, Nancy Niefield, Ann Norsworthy, Ed O'Connell, Barbara Oertel Compa, Carolyn Olsen, Alan Opresko, Cris Ortiz, Luis Oyola, Phil Palmieri, Rita Papandrea, Mary Pat Wagner, Andrew Pellettieri, Sarah Pertucci, Linda Pinkans, Ellie Prakken, Emily Prosper, Kris Qua, Itter Randazzo, Frank Rapant, Larry Rappoport, Elizabeth Rausch-Phung, Derek Rexford, Marquita Jo Rhodes, Joel Rhymer, Joleen Rockhill, Julia Rosen, Richard Ruotolo, Mark Schmidt, Ariana Schrader-Rank, Karen Schupack, Brad Schwebler, Jeannette Sheehy, Sharon D. Siegel, petesig.photo, Margo Singer, Israel Singer, Colleen Skiff, Terry Slade, Lindsay Slaughter, Frank Smith, Jacqueline Smith, Ryan Smithson, John Smolinsky, Henry Spliethoff, Eleanor Stein, Altin Stoja, Susan Stuart, Audrie Sturman, M. Suzanne Hicks, Caitlin Sweet, Grace Tatara, Kim Tateo, Caroline Valites, Victoria van der Laan, Michelle Vara, K. Velis Turan, Elisabeth Vines, Richard Vitkay, Takeyce Walter, Cheryl A. Warren, Jade Warrick, Alex Waters, Heidi Weinman, Wayland Whitney, Franklyn Whitney, Matthew Wierzbowski, Venlue Williams-Leonard, Sally Willse, Karina Wojnar, Bruce Wolford, Ann Womack, Rain Worthington, Xeze, Leslie Yolen, and Rebecca Zeh.

The exhibition is made possible by ACG Premier Sponsor Kevin Dubner, Partner & Wealth Manager at Steward Partners Global Advisory, LLC. Additional support is provided by BoogieREZ and the Albany Parking Authority and the New York Council on the Arts with the support of the Office of the Governor and New York State Legislature.
Convenient parking for ACG events is available at the nearby Riverfront Garage or on-street. For additional parking information, please visit: www.parkalbany.com/find-parking
Albany Center Gallery is a 501(c)(3) Organization for your tax purposes, contributions are tax-deductible within the limits of the law. We are always accepting donations, please consider contributing so we can continue energizing the community through art and empowering artists. We are better together, donate here.