Thousand Word Contest
Tags: Gallery News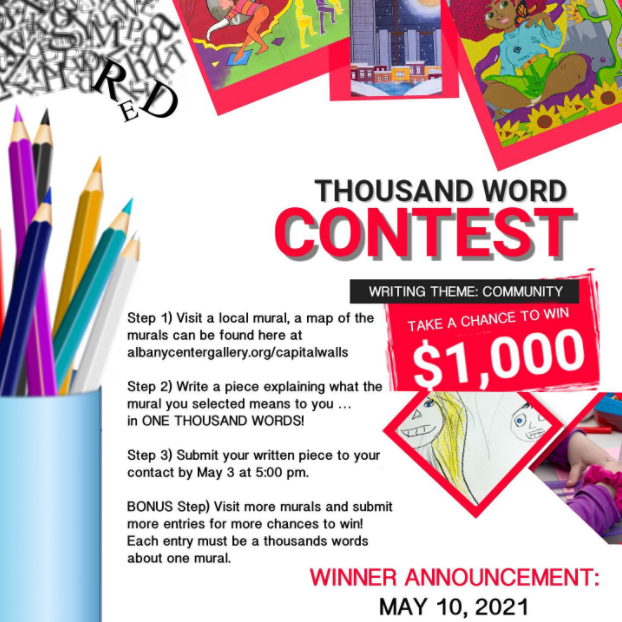 ---
The RED Bookshelf, Albany Barn and the Albany Center Gallery are excited to announce the launch of our 1,000 word for $1,000 contest! We've created an event to encourage literacy while connecting youth to some inspiring public art.

Calling all youth: you are invited to submit 1,000 word pieces, detailing what a #CapitalWalls mural means to you. This is a writing contest. Here is a link to a map of the murals: albanycentergallery.org/capitalwalls. They must visit a local mural, then submit a thousand word written piece on what it means to them. 

Participants are encouraged to submit multiple entries. One essay per mural. Essays must be emailed to info@theredbookshelf.org by 5pm on May 3. No submissions will be accepted beyond that deadline. Youth are asked to submit through their school staff or identified community partners. Submissions will not be accepted from students or parents. If you need assistance with this, please reach out to RED Bookshelf. They should be sent via email as a pdf file for remote review. Submissions will be judged by a panel of #CapitalWalls muralists. 
The grand prize winner will be announced on May 10 and receive $1,000 dollars! Other awards and prizes to be announced. Our goal is to use these incentives to encourage community engagement and offer young people and opportunity to practice their literacy skills. 

Community contest brought to you by The RED Bookshelf, Albany Barn, and Albany Center Gallery. #CapitalWalls is a partnership between Albany Barn, Albany Center Gallery, and Albany Parking Authority. This contest is a part of ACG's LOOK! Youth Art Series.
Happy Writing & Exploring!

If you have any questions or concerns, please feel free to contact anyone at The RED Bookshelf for clarification or assistance!