Creations: Connections & Collections
Tags: Gallery News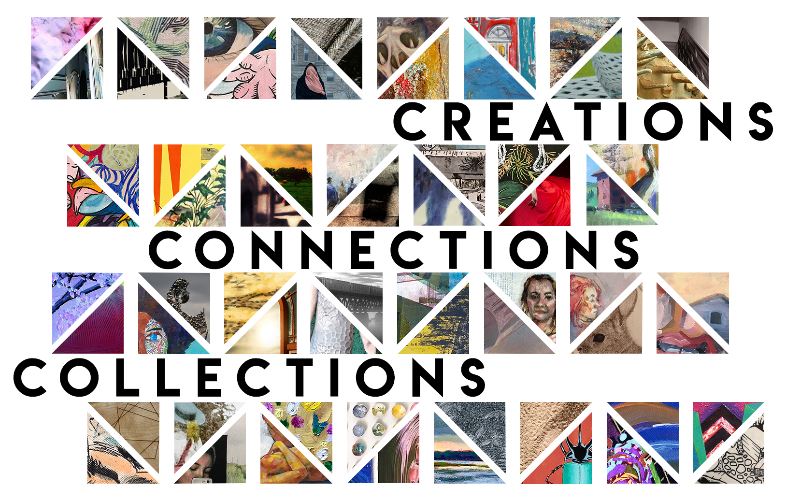 ---
Albany Center Gallery will be showing a special exhibit: Creations: Connections & Collections. This show brings together over 60 works by ACG members and their artist friends, making for a truly eclectic exhibition featuring various media. Creations returns in its 2nd year to promote and commemorate the ability artists have to inspire other members of the local community.
The exhibit will also feature over 40 works from the private collections of local arts patrons. Through the years, these patrons of the arts have amassed collections that feature diverse and unique pieces from local, regional and internationally renowned artists. This event is a rare opportunity to own these select pieces for an affordable price. The work includes traditional, modern and contemporary art in a variety of media such as works on paper, oil paintings, mixed media, prints, sculpture, and photography. 
Creations: Connections & Collections will be on view from Tuesday, October 15, 2019, to Friday, November 8, 2019. An Artist Reception will be held on Friday, November 1, from 5 p.m. to 8 p.m. Both the show and the reception are free and open to the public. Creations: Connections & Collections is sponsored by ACG Premier Sponsors Howard Hanna & David Phaff Real Estate Services, as well as Maureen Devine, Albany Parking Authority, the New York State Council on the Arts, and the Albany Wine & Dine for the Arts Festival.
 
Exhibiting artists include: Margaret Atkinson, Michael Bach, Martin Bannan, Alicia Barton, Susan Beadle, Michael Beiter, Hem Borromeo, Lily Wai Brennan, Raina Briggs, Terrel Broiles, Steven Carberry, Kaaren Caron, John Catalfamo, Lorraine Chestin, Michael James Clancy, Stephen Condon, Jan Conn, Alyssa Darmetko, Francelise Dawkins, John De Sousa, Karen Fabiane, Paula Drysdale Frazell, Brian Gibbs, Alice M. Gilbert, Abby Golodik, Bryan Hamill, Frederick Holman, Xenia Joseph, D.M. LaBlanc, Mary Pierce LaFleur, Charlene Larson, Lori Lawrence, Barb Lennox, Stephanie Levay, Tina Lincer, Billy Lyons, Willie Marlowe, Dan McCormack, Wesley Merritt, Ann Norswrothy, Susan Nowogrodzki, Dorothea Osborn, Philip J. Palmieri, Tris Paniccia, Rita Papandrea, Beca N. Piascik, Celeste Plowden, Lisa Robilotto, Erik Rutnik, Cadence Schwartz, Elisa Sheehan, Margo Singer, Aaron Spencer, Susan M. Story, Joe Van Horn, Michelle Vara, Richard Vitkay, Takeyce Walter, Lawrence E. White, Leslie Yolan, and Terry Zacuto
Collectors include: Anonymous Donors, David Brickman, Gloria Desole, Kevin & Cindi Dubner, William Harris, Esq. & Holly Katz, Rosemarie Rosen.