Posted March 25, 2017
LOOK! Youth Art Month
Tags: Gallery News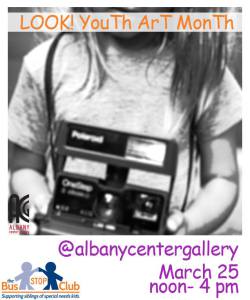 ---
March is National Youth Month, during which ACG highlights the significance of visual art as an integral part of a comprehensive education. LOOK! is a special event that gives area children the opportunity to work with professional artists and create art work that focuses on a central theme. This year, the theme is photography!
On March 25th, ACG will pair 12 kids from The Bus Stop Club with professional photographers. The Bus Stop Club is a nonprofit that provides encouragement and support for the siblings of children with chronic illness or developmental, physical, or intellectual disabilities.
The group will tour the ongoing Photo Regional Exhibit at ACG, juried by Tara Fracalossi and Danny Goodwin, and learn about the different methods and subjects photographers use in their work. Then, each photography team (one child and one adult) will venture out into the immediate neighborhood to take photos with the equipment they have accessible to them. This could include film cameras, digital cameras, disposable cameras, camera phones, pinhole cameras, land cameras, or other types of cameras. The professional photographer will mentor the child in their photography work that afternoon. In the following weeks, ACG and the professional photographers will print an image created by each child. In late April, the groups will return to the gallery to view and celebrate their work in a temporary public art installation. Each child owns their work. Every sponsor will receive a copy of the print and an invitation to the viewing.
Please sponsor a child today – events like LOOK! inspire future creatives to pursue their dreams, learn new skills and participate in a fun event of which they can be proud. Thank you.
Help make this happen, donate today.
https://squareup.com/store/albanycentergallery/item/look-youth-art-month